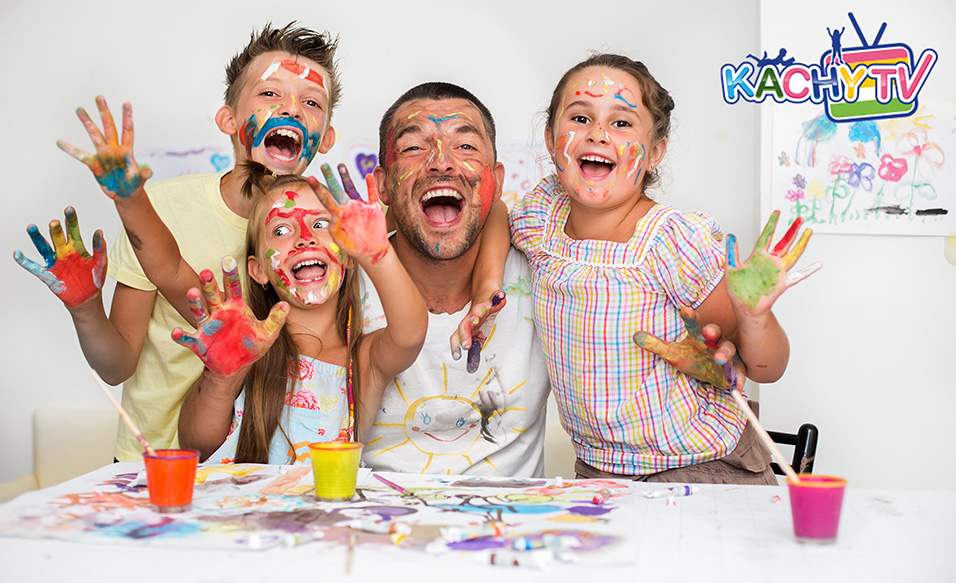 08 Jun

Learning Made Simple with Kachy TV

There are many benefits for children when they learn in a fun manner. As a mother it is important for me for my children have fun as they learn, This is why I love the use of nursery rhymes, baby songs, children songs, educational videos or what name it is called, new kids songs or classic rhymes are awesome tolls for children to learn.

With Kachy TV –Kids Songs and Nursery Rhymes, your precious champions can learn the very first lessons of their lives while having fun, and singing along. Nursery rhymes are an essential part of your child's brain development and social evolution, and all of Kachy TV videos combine entertainment, education and information, so that your baby gets the very best and most fun learning experience. For instance, Kachy TV's "ABC Song" video uses bright colours and fun animated characters that teach kids how to sing along, and in the process, learn "Counting from 1 to 10", as well as all of the letters of the alphabet system.

An Easy Way to Learn

The "Animal Sounds Songs" also serves as a beautiful audio-visual medium, where the friendly animated characters emulate the natural tones and features of human, which the children can relate to their parents, in order to break down into simple and easy terms, the basic noises of animals. The use of interrogative sentences, is immediately followed by the answer, so that the next time someone asks your baby, "What did the cat say?" their immediate answer will be "Meow, meow, meow" Each animal sound is also accompanied by the same animated character of the animal, so that your baby can easily associate the animal with their noise.

Audio-Visual stimulated learning

Kids always have a fascination with the night sky, and consequently the outer space. For them, there is the "ABC Song In Outer Space" which uses bright and soothing animation, as well as dynamic visual imagery from outer space like flying cars in order to teach young kids the alphabet system. This is combined with a very pleasant and soothing song and toned down music, so that your baby can have a stress-free time learning the basics. Each of the letters are brightly coloured to stimulate their optical nerves, and urges them to sing along, for a faster learning process.

Interactive interface

But what learning process can ever be complete without the "Old McDonald Had a Farm" rhyme? In a new and visually dynamic reimagining of the classical nursery rhyme, Kachy TV brings a video that combines the song with their animated counterparts, and makes sure that the children sing along with it. Not only are children made familiar with the classical song, but kids are also re-introduced to common animal sounds.

Never Give Up:

In a world where it is so easy to throw in the towel, teaching kids persistence becomes very crucial. And what better way to teach your toddler to never give up in life, than with the "Itsy Bitsy Spider" song? Using a simple narrative of a baby trying to ride a bicycle and failing, only to be persuaded to try again by seeing a resilient spider, this kids song video, breaks down for your children, how learning something new can be hard, but it never means that they should ever give in to it.  Children can learn to keep trying even when it is difficult and this video compliments the teaching of parents to their kids.

There's More to Explore

Kachy TV also features a wide range of other equally engrossing and incredibly helpful learning videos that expose your children to a number of basic lessons. Each of the video are short, keeping in mind that children have a very short attention span, and each video incorporates audio-visual aids, since children learn best when they are involved in what they learn.

So get ready for some learning with your kid, enjoy Kachy TV – Kids Songs & Nursery Rhymes, it is a stimulating way for children to learn and be even more confident. And if you feel like dancing or singing along, go ahead – it is fun for parents and even grandparents too.

If you found this article helpful and wish to get to Kachy TV channel here's the link: While you are there do subscribe so you can updated about new videos;

About the author

Rita Izu- is passionate about writing and supporting other women in her community to have a voice in their world. As a mother, a nurse and a home maker Rita believes that every woman has a talent which she needs to find and use to make her life and the life of her family fun and more interesting. She enjoys creating a warm, nurturing and loving home for her family. Rita is resourceful and innovative about the impact mothers, teachers and women can make in the lives of their children and family.