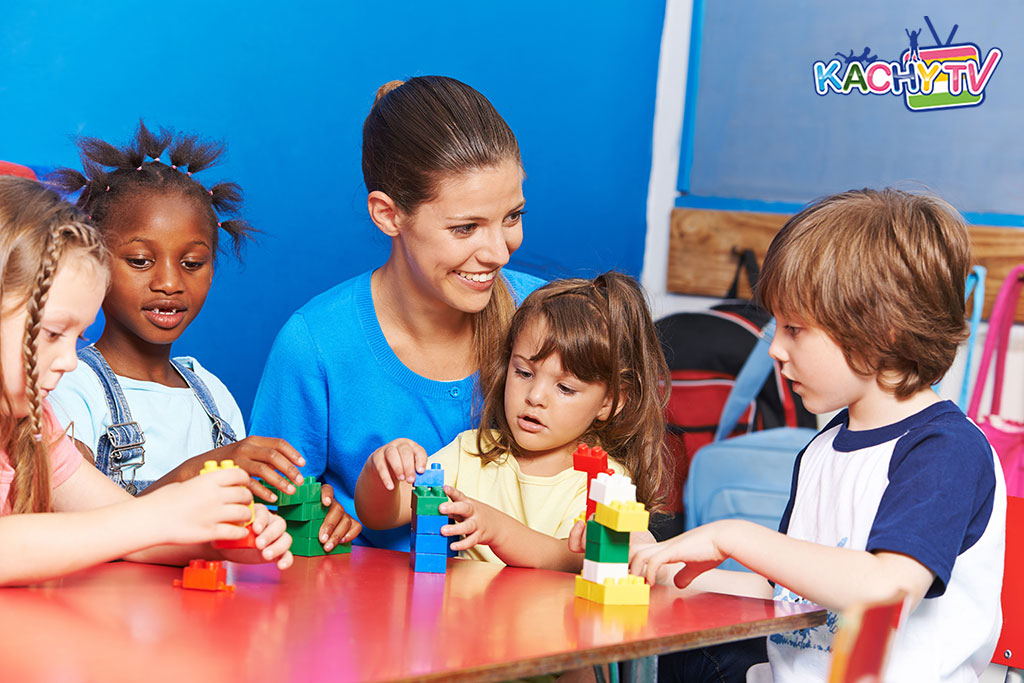 17 Jan

Why Getting Down On Children's Level Is Important
Building Blocks of Communication
Kid's are small and they look up to adults in more ways than one. Because of the size difference children have no choice but to look up to us when we are communicating. If you've ever crawled around on the floor with a baby and looked around you would see as they see from their perspective. This is usually the time you find anything small that has dropped and disappeared into the abyss that only a baby would find and put into their mouths, like batteries and hair barrettes! Next time you're down on the floor with your baby try taking a look up at an adults and see what giants we are compared to their tiny little selves.
Eye contact is really important when it comes to both verbal and nonverbal communication. Our parents used the line "look at me when I'm talking to you sweetie' for a good reason. According to research, during the first year of life infants learn quickly that the looking behaviors of others conveys significant information. As they grow so does the understanding and recognition of communication.  Just as much as we want to know that we have a child's attention while communicating, children also want to know that they have ours. This may require you to kneel or squat down. You can also bring the child up to your level by having them stand on a stool or chair and if it is a baby you can simply pick them up and hold them close to you at eye level.
The Positive Impact It Has For Both Kids & Adults
Children Feel Safer: Children especially, babies generally feel safer when adults get down to their level. It seems to be mostly because we are so big and so is the shadow we cast. It can be overwhelming sometimes, especially if the parents and other adults are using a serious tone. If you find yourself having to be serious with your little one bring down your tone, as well as your size. Subjects such as staying out of the road or not playing with the camp fire are scary situations so getting down on your kid's level will help them feel safe while you explain the dangers.
A Sense of Control: This works both ways. When parents and adults are trying to relay important messages to children, getting down on their level helps to get their attention and focus giving the parents a sense of control that is needed to express any importance. Our littles like to feel as though they have a sense of control while telling you things even when what they're talking about who their new favorite cartoon character is. That's important business in a kid's world. When we make that eye contact they recognize that we care about what they're saying.
Confidence: Parenting can be tough! There are some things that are more difficult to teach or show are children than others. For example, confidence, some people naturally have it and others have to learn how to build theirs up. Always making eye contact and sizing yourselves down to your child's size is not only great for communication building but confidence building as well. When your kid/kids want to make new friends it is easier when their confidence level is already built up.
Acknowledgement: Everyone likes to know that they've been heard and acknowledged. Well, unless you're a toddler raiding the cookie jar at nap time, then you don't want to be noticed. Children need acknowledgement just as much as parents. It helps us all to stop, look, and listen to what those around us are doing, as well as, reminding one another that we care enough to see, hear, and acknowledge the things they say. It reminds us all that we matter. Just as much as we want to know our little ones are paying attention to us when we talk they want the same respect. When your kiddo is trying to convey information about their broken crayon it helps them know they're being acknowledged when they see us on eye level.
Builds A Connection: Eye contact, body language, and tone all play a key role in building connections with others. Not all children are as verbally outspoken as others. Bringing your kid up to your level or getting down on their level helps them see and feel more. Your words and facial expression will connect and one day your child might be able to tell you've got a belly ache by the look in your eyes and the wrinkles in your forehead. Sometimes there is such a connection that there is no need for words.
Provides Comfort: Sitting down with the little ones and talking about their day including the ups and the downs allows us to be closer to our children. Reaching out with a caring hand when they find out that their crush made someone else a mud pie in daycare comforts them and it also teaches them how to comfort others in need. When you're on one another's level your child sees the smile on your lips but also in your eyes when they say I love you. I know my kids' smile has really pulled me out of a down moment.
Elaina Garcia, is the author of Educational Children's Audio books, available on Audible and Amazon. She is an experienced home-school teacher for grades K-6, and a business major who specializes in creating books for children., as well as, online content on various educational sites. Elaina is a contributor to KACHY TV Blog and her children's books revolves around nature and science as well as on building family bond and connections and improving communication.